The early learning years can be a stressful time. In many cases, it's not only the first educational experience for the child, but it's also the first time that parents are sending off a child. The design of the early learning center has the potential to reduce that stress for both child and parent.
In this post (the last in my series on the early learning center design essentials), I'll discuss how facilities can be safe, comfortable places that welcome students and community members alike.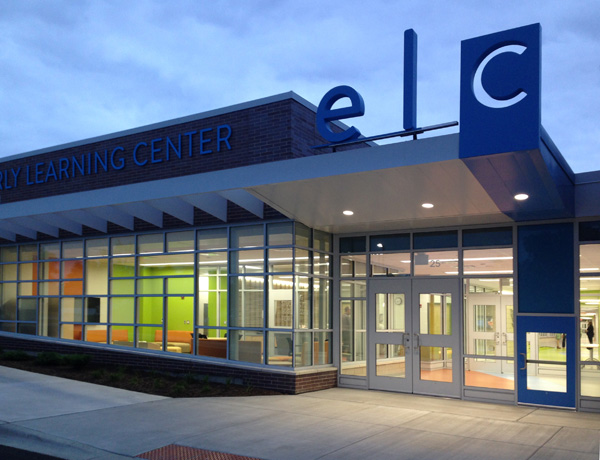 When my husband and I shared preschool drop-off and pick-up duties for our two children, we noticed the poorly lit, tiny, seatless lobby. It seemed so uninviting. Plus, when parents mingled or talked with teachers, their children would often just stand there. We thought it would be nice if there were a place where parents could assemble and chat while their children had something to do.
To be truly community friendly, today's early learning center should immediately engage the student and his or her parents. It should encourage purposeful play and socialization.
New early learning centers in Addison and Mount Prospect, Illinois feature a "welcome center" within the administrative area. Right away, students get the spontaneity and engagement that they crave, and parents get peace of mind.
At the Addison School District 4 Early Learning Center, for instance, the welcome center offers specific areas for parents while educational play tools immediately occupy students.
Enclosed outdoor courtyards can also engross children in educational play during pick-up/drop-off times. The Community Consolidated School District 59 Early Learning Center offers a main courtyard and three thematic learning gardens, all surrounded by the facility. Parents can have stress-free, meaningful conversations within the facility, with great views of their kids having a ball outside.
Read my other posts on the essentials of early learning center design:
Part 1 – Indoor/Outdoor Connectivity
Part 3 – Encourage Interaction
If you have any questions about early learning center design, please contact me: