More building owners benefiting from material's exceptional flexibility.
In my last post, I broke down some of the benefits of using metal in the design of facilities. This time, I want to focus on one of them: versatility.
Note I am not framing an argument that metal is better or worse than any other building material. However, as more high-profile metal-clad facilities continue to pop up in cities and suburbs throughout the country, more of our clients are beginning to ask about the material.
Today, designers exploit metal's flexibility to make schools more exciting and hospitals more inviting. Metal can help reinforce corporate brands or reboot municipalities' image within their communities.
The current selection of metal building materials offers designers endless possibilities for shapes, textures, and façade effects. I've seen glimmering, iridescent façades that seem to change depending on where the viewer is. Then there are the details that could only be done with metal. Other recent metal feats include roofs with striated patterns, screens and veils, and decorative elements that double as brise-soleils (i.e., devices that deflect sunlight).
Some designers have even used metal as a kind of functional jewelry at entry walls. These screen walls can transform an otherwise standard brick building to a campus gateway, shade a lobby, or convey an institution's mission as a sign.
A Campus Personality
One building type for which metal façades can be an especially effective solution is the higher education facility. Designers can use metal as a cost-effective way to reinforce function, push a college or university in a new direction, and relate to other campus buildings.
Joliet Junior College's Facility Maintenance Building uses metal to echo the industrial nature of other campus buildings. The metal also reinforces the function of different parts of the building. For instance, the office area façade uses smooth, foam-insulated panels. Corrugated metal on the adjacent shop area creates a more industrial look. The taller vehicle storage area is precast concrete painted white to fit in with the campus's many white buildings.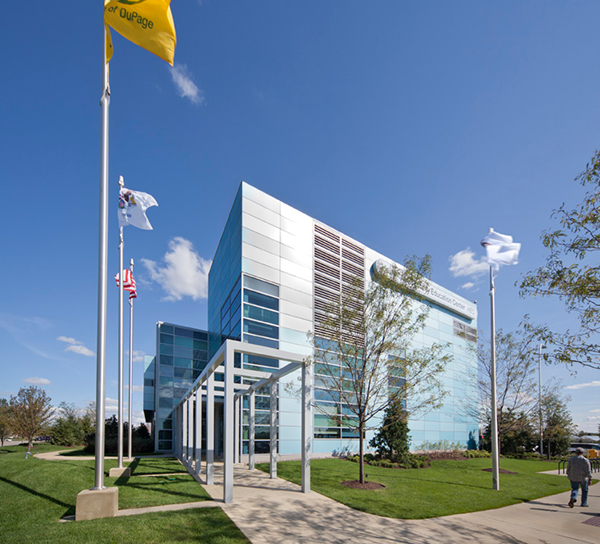 The College of DuPage's Homeland Security Education Center illustrates metal panels' unlimited color customization capabilities. The design team spent a lot of time selecting the colors of the aluminum composite panels. The resulting random arrangement of three blue-green colors merges technology and nature. The panels reflect the innovative nature of the facility's programmatic offerings, and underscore the program's focus on security.
Contact us to learn more about metal and other material design options, or comment below to share your thoughts on this post.