Flexible spaces support active learning, display career-based programs, promote community and business partnerships
[Mundelein, IL] – Mundelein High School's (MHS) science labs hadn't been updated since the school was built in 1961. That's 55 years. Classes were cramped. Equipment and furniture were outdated.
So two years ago, Mundelein High School District 120 was thrilled when it received a state construction grant. MHS and Legat Architects, continuing a partnership that spans nearly 50 years, toured other high schools, got input from students and teachers, and then set out to create an expansion that would reignite the campus's image.
Recently, the MHS community celebrated completion of a 55,000-square-foot science and classroom addition, built by IHC Construction Companies. The three-story expansion, which stretches over a long-unused courtyard, not only gives the school room to breathe, but also establishes MHS as a regional leader in STEM (science, technology, engineering, mathematics) education and workforce preparation.
MHS has used the light-filled, flexible space to launch programs in STEM, PLTW (Project Lead The Way, a hands-on engineering program), and a Shark Tank-style entrepreneurial/business skills development program built on partnerships with local businesses and universities.
District superintendent Dr. Kevin Myers recalled a conversation with a science teacher excited about the addition because "instead of just learning about science, students will be able to do science."
Evidence of such active learning appears throughout the facility: students collaborate in college-level labs twice the size of the old ones, conduct nanotechnology research or build robots in specialty labs, pitch ideas to business leaders in a corporate-style conference room, or work with renewable energy on the third floor "experiment balcony."
Already the addition is making an impact: 153 students are enrolled in STEM courses while 450 are taking PLTW courses. Additionally, according to district leadership, several families decided to move into district boundaries after touring the addition.
Myers said, "With this addition and the programs it houses, MHS students will acquire the skills that they need to excel in the workforce."
Teacher- and Student-inspired Design
To ensure Mundelein High School took STEM and PLTW education to the next level, the MHS and Legat team toured successful spaces at 12 area high schools, then interviewed teachers at those schools about their programming.
Dr. Anthony Kroll, MHS principal, said, "After the visits, Legat created floor plans, which we then showed to teachers at those schools. We asked, 'What would you do to make your spaces even better?'" The teachers' input inspired many of the MHS addition's innovations, such as the large window that connects the STEM and PLTW labs.
MHS students also played an important role in the addition. The team gutted one old classroom to create a test space. Students gave feedback about different furniture and about how technology and layout supported testing and collaboration.
Students also shared thoughts about spaces at other area high schools. For instance, their comments on spacious hallways and natural light inspired wider corridors and floor-to-ceiling windows in the addition's teaching spaces and corridors. Additionally, students helped select seating for the expansion's three outdoor courtyards.
On a Roll with Flexibility
During the first week of school, a visitor might have been surprised to see Mark Michalski's science students rolling their chairs in the corridor. It was the students' first experience with movable chairs and Michalski wanted them to "get it out of their systems."
Those rolling chairs give evidence of a major change: the flexibility of the new spaces.
MHS's old labs had static furniture that made it difficult to move around a space, plus there was no distinction between the classroom and lab parts of the room.
Today, it's a much different story. Students get their lesson, then rearrange the room to break into smaller groups for a more hands-on experience. There's much more moving around and collaboration, and no grinding of furniture.
Teachers use touch-sensitive smartboards, sliding markerboards, and interactive monitors positioned around the room to make lessons more visible for students. Second floor classrooms even have breakout rooms separated by movable glass walls.
"It's a much more flexible arrangement than the typical classroom or lab," said Len Wynter, project manager with Legat. "Nearly all the furniture is movable, which means classes can quickly adjust the setting to accommodate everything from group work to self-directed study."
Learning on Display
Large corridor and courtyard windows exhibit three showcase spaces: the Business Incubator, the STEM lab, and the PLTW lab. Teachers can also show activity in these spaces on monitors positioned throughout the corridor.
"We want students to see what's going on in those classes," said Myers. "We want them to ask questions and think about being in there."
Business Incubator
Here MHS's future entrepreneurs will build their communication and presentation skills through direct interaction with local businesses.
Kroll explains the process: "Students identify a problem, create a product or service to solve it, develop a business plan, and then pitch that plan to business leaders."
The Business Incubator immerses students in an authentic corporate environment with access to multimedia tools. It offers perimeter workstations, a glass conference table, and a projector. Across the corridor, a glass-enclosed conference area with views to the courtyard sets the tone for student meetings with area professionals.
STEM Lab
MHS asked thriving local companies what skills students would need to work for them. Those companies' responses fueled the STEM program and lab design.
Students choose a scientific challenge that interests them. They then work alone, with each other, with their teachers, and with industry or academic mentors to research that problem.
The lab includes fixed chemistry islands, movable worktables, and a "Think Tank" where students gather to do multimedia presentations.
MHS Business Manager Andrew Searle adds, "We didn't want to have this beautiful facility without the equipment to do the types of programs and research that we envisioned."
To see such advanced equipment, one might head over to the "Nano Nook," a small area in the STEM lab dedicated to nanotechnology, a branch of science that investigates microscopic structures. Its scanning electron microscope makes MHS one of only 12 high schools in the country with such an instrument. Students use it to investigate everything from the properties of metal and concrete to plant cancers and the DNA of genetically modified organisms.
Project Lead The Way Lab
This lab hosts MHS's pre-engineering courses, including an optional all-female section based on research related to gender learning differences, a shortage of females in STEM careers, and success stories from other high schools.
Computer stations and mobile worktables allow students to build machines controlled by software that they create. They can then test their machines in a demonstration area next to the corridor window.
STEM and PLTW labs share a machine lab, a locker room, an interior window, and a courtyard for outdoor experiments.
"The PLTW lab, like many of the spaces, gives students an opportunity to investigate a potential career path," said Kroll. "If they like it, they get a head start for college. If not, they don't waste time and money down the line by changing their major."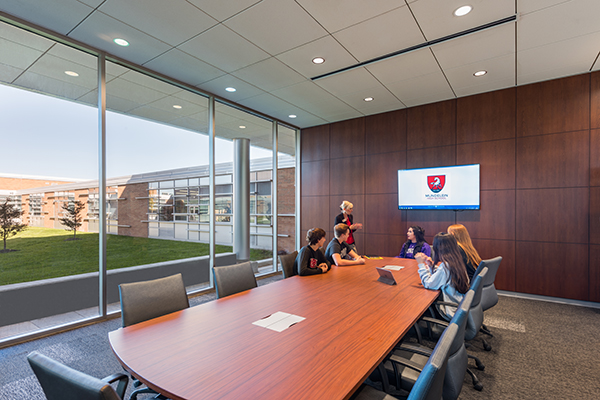 County Career Paths and Community Outreach
Searle reveals another major goal of the expansion: "We wanted to use it as an opportunity to reach out to area businesses to build relationships and give students professional mentoring opportunities."
For instance, the district partnered with Lake County Partners, a nonprofit organization aimed at enhancing public/private collaboration to promote economic vitality within the county. MHS used that partnership to custom-design programming within the addition.
"We'll be better prepared to meet our own county's career needs," said Myers. "It not only makes Lake County stronger, but it keeps our talented students local."
The district created "Career Cells" to help students learn about careers in a variety of professions. If students are interested in the medical field, for example, the spaces will accommodate a panel of doctors, nurses, and EMTs to discuss their career path with students.
MHS has also used the expansion to better connect students with the community. Students will work side-by-side with community volunteers to plant native vegetation and explore renewable energy concepts at area public gardens.
Peripheral Benefits
The MHS expansion doesn't only profit the school's science and engineering programs; the school's fine arts programs benefit considerably. Before the addition, it wasn't uncommon for quartets to practice in hallways or storage closets, or for the band to rehearse in a conference room with a classroom two doors down.
The expansion frees up a great deal of space in the older structure:
Older labs transform into soundproof rooms where students can practice without disrupting others.
More studio space means the district no longer has to rent space for its dance teams.
Added storage space allows the theater program to create a small "black box" theater at the back of the main theater.
"The Style of It"
On the first day of school, Kroll asked a group of students what they thought of their addition. "They said it's bright and colorful, that they love the furniture, and that it doesn't look like a regular school building. They said it's special," said Kroll. "They also loved the 'style' of it."
One contributor to that "style" is a design that highlights, rather than hides, its inner workings.
"The entire building is designed as a teaching tool," said Wynter. "We put mechanical and structural systems on display to respond to students' natural curiosity and to show them how these systems come together."
In the STEM and PLTW labs, exposed ceilings reveal the "guts" of the building, while the steel I-beams that hold up the building make an appearance in corridors.
Students also appreciate the expansion's non-programmed spaces, from the base of the main staircase to the light-filled corridors, where they can gather to work on projects or share ideas.
Things We Never Imagined
The first week of school, MHS hosted a visit by renowned scientist Dr. Mark Stoyer, who co-discovered six chemical elements. Stoyer spoke to students and toured the addition. "I wish I had these types of materials and facilities when I was in school," he said. "Career Cells and the Business Incubator Lab offer things we never imagined when I was high school age."
Stoyer isn't the only one who has commended the revitalized Mundelein High School. Dr. Ron Girard, MHS public information officer, said, "We've had many positive comments. Grade school parents can't wait for their children to take advantage of our programs, while others have said the project has made them proud to be part of this community."
Those who have toured the addition range from college administrators and healthcare and business professionals to senior living communities and governmental representatives.
"It's not institutional and it feels more like a university than a high school," said Myers. "This all points to a critical outcome of the addition: our students are getting experience that many kids won't get until they're in college."
Contact us to learn more about STEM design or high school design, or comment below to share your thoughts on this post.