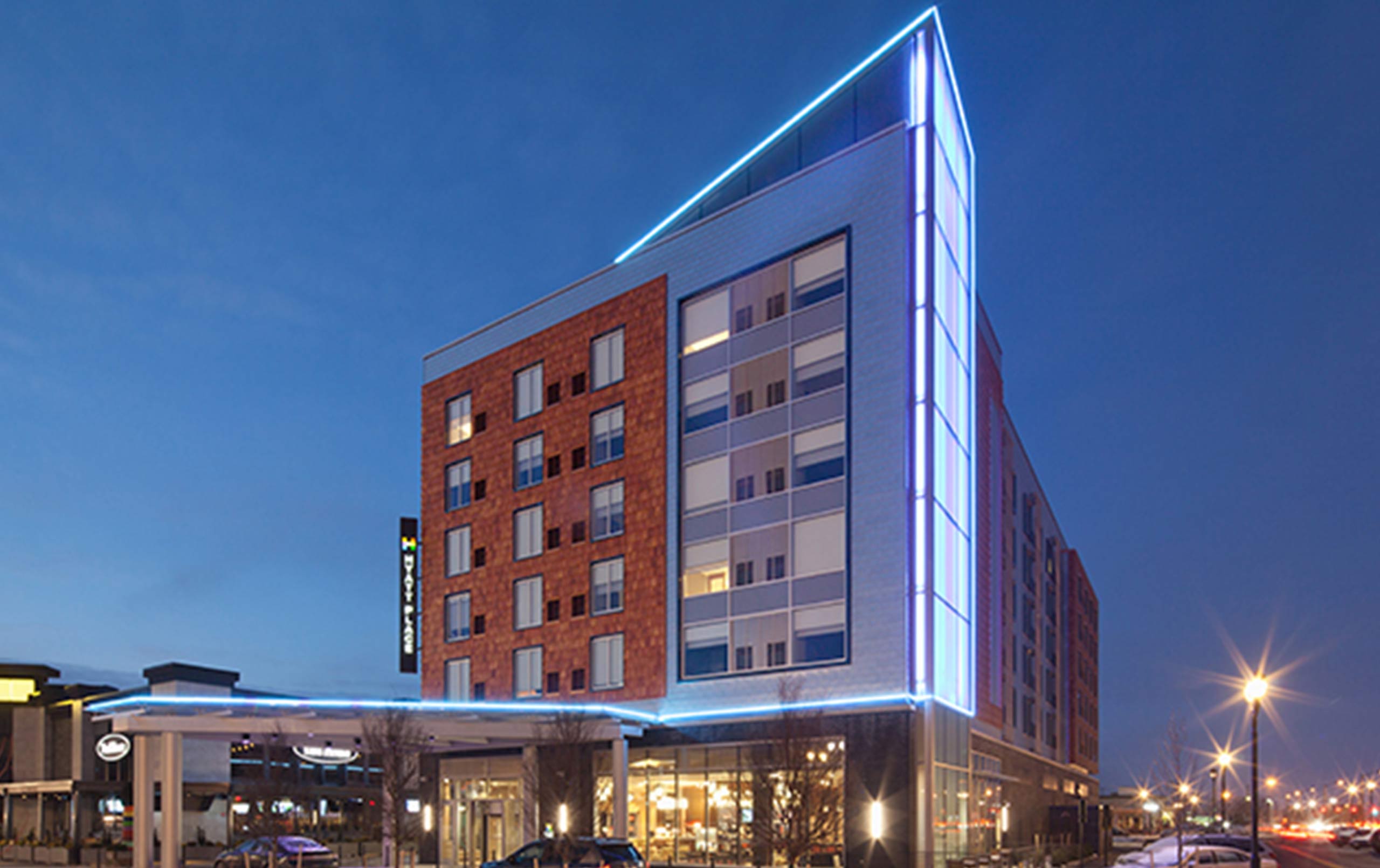 Designing a hotel that outperforms competitors means listening to what both primary users and surrounding buildings have to say.
The most prosperous hotels embrace local opportunities. They might, for instance, support a manufacturing district or link to a transit hub. Therefore, the challenge for architects is to design hotels that not only cater to the preferences of those most likely to use them, but also respond to regional nuances. A case in point is the new Hyatt Place Cleveland/Westlake/Crocker Park.
Crocker Park is a 2.5 million-square-foot suburban "lifestyle" development in Westlake, Ohio (15 miles west of Cleveland). The 75-acre site offers everything from retail and entertainment to offices and apartments. It even has a whole residential neighborhood within its boundaries.
When it came time to build a new hotel on site, developer Stark Enterprises wanted to capture Crocker Park's "big city energy meets small town charm" appeal. Moreover, the hotel had to stand out among regional competitors as a destination for business travelers—especially since American Greetings Corporation's massive new 660,000-square-foot headquarters is on campus.
The development team had noted the success of Hyatt Place Chicago South/University Medical Center in Chicago's Hyde Park neighborhood. That hotel, discussed in my last post, became the inspiration for Hyatt Place Cleveland/Westlake/Crocker Park.
A Better Fit
The Hyde Park hotel, which has achieved one of the highest occupancy rates of any select service hotel in Chicagoland according to Smith Travel Reports, had already proven itself. Its urbane aesthetic would break the mold for hospitality facilities in the Westlake region and appeal to business travelers as a high-end hotel option. Additionally, the design/development team offered a prototype that would save time and costs.
The challenge came in modifying the design to create a better fit aesthetically within the Crocker Park campus and greater Westlake area. Overall massing of the new hotel remains the same, as do the storefront windows, the glass canopy, the Hyatt Place brand's signature glass "edge," and the electric blue lighting.
What did change were the façade's materials and color palette to complement the regional architecture and materiality. For instance, the façade uses smaller terra cotta shingles to create a softer texture than the larger porcelain tiles on the hotel's Chicago sister. Black face brick on the lower level (as opposed to full glazed storefront on the Chicago hotel) ties into surrounding buildings, while the interior displays regional artwork to extend that local touch.
In Demand
Hyatt Place Cleveland/Westlake/Crocker Park led the Westlake area in occupancy last year, according to John Schultzel, vice president of hotel management at The Olympia Companies, which manages the hotel. As of this writing, the hotel ranks #1 in Westlake on TripAdvisor.
"Hyatt Place Cleveland/Westlake/Crocker Park fills a void in contemporary, thoughtful hotels within the region," said Schultzel. "It outperforms based on a combination of factors, most notably location, design, and operations. These factors create a high demand that allows us to charge incrementally more for a superior experience."
Hyatt Place Cleveland/Westlake/Crocker Park reveals an important lesson—the successful hotel must not only have an identity that attracts key prospects, but it must also respect its surroundings, whether they be an urban core, a historic neighborhood, or a vibrant mixed-use development.
Contact us to learn more about hospitality design or comment below to share your thoughts on this post.