Renewed rehabilitation/skilled nursing facility offers "something for everyone" to energize formerly underused spaces
[Des Plaines, IL] – The first floor at Oakton Pavillion was dark and dated. Residents of the facility mostly avoided the space.
Kirsten Schloss, VP of Physical Plant and Dietary Services at Generations Healthcare Network, said, "In addition to no resident rooms, the old building lacked open, inviting spaces to gather and socialize."
So Generations and Legat Architects set out to revive the spaces, expand programs, and ultimately, bring more activity to the first floor.
Today, the rejuvenated space offers a completely different experience: Families and residents gather in a new sports bar. Residents enjoy each other's company in an intimate dining room or recover in a spacious physical therapy room. Plus the reconfigured space now offers 23 resident beds between 19 private and semiprivate resident rooms with showers. There is even a new resident-run store.
Energizing the different spaces is a wide variety of furniture, colors, and materials, along with artwork selected by Schloss. The artwork, ranging from abstracts to photographs and floral pieces, stimulates many conversations.
"There is a direct correlation between physical environment and patient-centered care," said Schloss. "There's something for everyone here: a better living environment for residents, a better setting for visiting families, and a better workplace for staff. It all creates a higher level of care."
The Place to Be
The changes are apparent as soon as one walks into the facility. What was once a dark and congested entry space is now a bright, open lobby with views to a welcome desk, a new nurse station, and the sports bar.
The showcase space is the new 1,300-square-foot sports bar replete with internet café, ice cream parlor, TVs, and a fireplace. Oakton Pavillion uses it for everything from daily social space to events like resident birthday parties or community gatherings.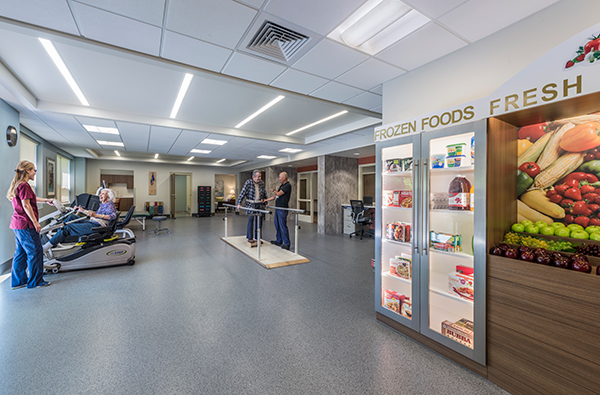 The renovations also triple the size of the physical therapy room. The airy space features high-end finishes and much more equipment, as well as a new activities of daily living (ADL) area. Here short- and long-term recovery patients can regain their abilities in a simulated grocery store area, kitchen, bedroom, and training bathroom.
An Eclectic Vibe
Before the renovations, the first floor suffered from a dark color scheme dominated by a heavy maroon, along with outdated and unvarying furniture.
A modern interiors admirer who leans toward stark spaces might be taken aback by the sheer diversity of styles that now enliven Oakton Pavillion. This diversity, however, was by intent.
"After a great deal of discussion, we chose an eclectic vibe to respond to the Oakton Pavillion clientele's variety of tastes and to encourage family involvement," said Legat's Lauren Peterson. "We worked with Generations representatives to explore and apply different eras and styles throughout the materials and furniture."
Interior styles range from understated to ornate. For instance, the sports bar entry features highly ornamental flooring and wood-paneled walls. Inside the space are more subdued textured floor tiles, wooden accents, and swooping benches with a classic look, but also high-top chairs and a fireplace with clean edges.
The primary color scheme reemerges as light blues and creams with hints of red. Peterson calls it "the cooler side of bright and light."
Schloss adds, "The renovations have helped us deliver world-class rehabilitative and skilled nursing services with the comforts of home."
Contact us to learn more about healthcare design options, or comment below to share your thoughts on this post.