Licensed architects Tom Kikta and Carli Sekella have been named studio directors at Legat Architects. The position requires them to mentor the project managers and project architects within their studios, and to ensure that their studios have the required resources to finish each architectural and interior design project on time, within budget, and according to the client's vision.
Kikta, also a principal of the firm, leads Legat's studio in Chicago's West Loop, while Sekella oversees the firm's downtown Columbus, Ohio location.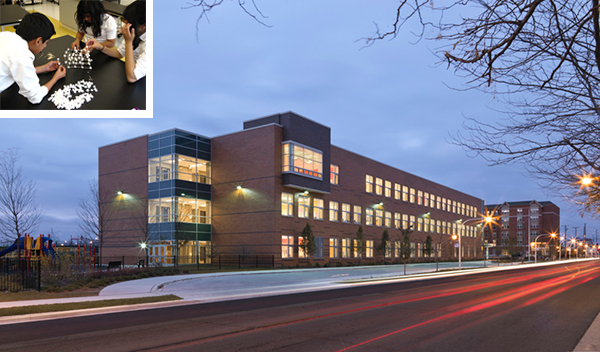 Tom Kikta: Established Mentor, Client Advocate
Many architects within the Chicago area (and well beyond) honed their skills under the wing of Tom Kikta, who has managed teams for hundreds of projects since he joined Legat in 1990.
"Tom is a dedicated leader who ensures that his team members learn and expand their skill set with every project," said Patrick Brosnan, Legat president and CEO. "He's also a model for client dedication—Tom doesn't just focus on what clients want for their projects; he strives to understand their overarching goals and works with them to take design to the next level to benefit their communities."
Kikta's client commitment is best exemplified by his experience with the Public Building Commission of Chicago (PBC), a relationship that covers more than 20 years and 30 campuses in the Chicago Public Schools system. These projects started small, such as temporary classroom buildings, then evolved into major renovations and new construction. Kikta has also worked with PBC as a "design architect" for recent projects—the role enables him to provide guidance to less experienced firms, including minority- and women-based enterprises (MBE/WBE). Currently, Kikta is leading a design-build team for a new John Hancock College Preparatory High School in Chicago's West Elsdon neighborhood.
Coworker Justin Banda said, "Tom is incredibly committed to the studio's wellbeing. He's personable, he gives time to anyone who asks for advice or support, and he's often the first person to suggest an outing after a particularly long day."
Carli Sekella: Morale Builder, Meticulous Planner
In February 2013, Carli Sekella joined Legat's Columbus studio with hopes of advancing her career and expanding her portfolio. Since then, she has played key roles on projects ranging from elementary school renovations to a new public safety training center. Additionally, Sekella helped Legat's Columbus location develop from a space that fit five employees to a much larger studio with room to grow.
Sekella served as interim studio director of Legat's Columbus studio since August 2018. Since then, she not only earned her architectural license, but also played a role in securing the firm's first project for Columbus Public Schools and her studio's first senior living project. Recently, she was part of a team that won a commission for an addition to Whitehall City Schools' Rosemore Middle School, also designed by Legat.
"Over the past nine months, Carli has demonstrated her strong leadership skills," said Berry DeSimone, Legat's chief operating officer. "Her demeanor and approach have enhanced the morale within the studio and she's earned full support from her staff."
Sekella has helped Legat's Columbus studio expand its portfolio, once dominated by preK-12 projects, into markets such as higher education, healthcare, corporate, and governmental. Her most recent project involves renovations to create vibrant student gathering and study spaces at Ohio University's Chillicothe campus.
Longtime coworker Dennis Paben said, "Whether she's dealing with HR matters or overseeing construction administration on a project, Carli brings a detail-oriented approach to her tasks. She's a meticulous planner and understands the strengths of those in her studio—it's the perfect skill set when it comes to this position."
Contact us or comment below to share your thoughts on this post.